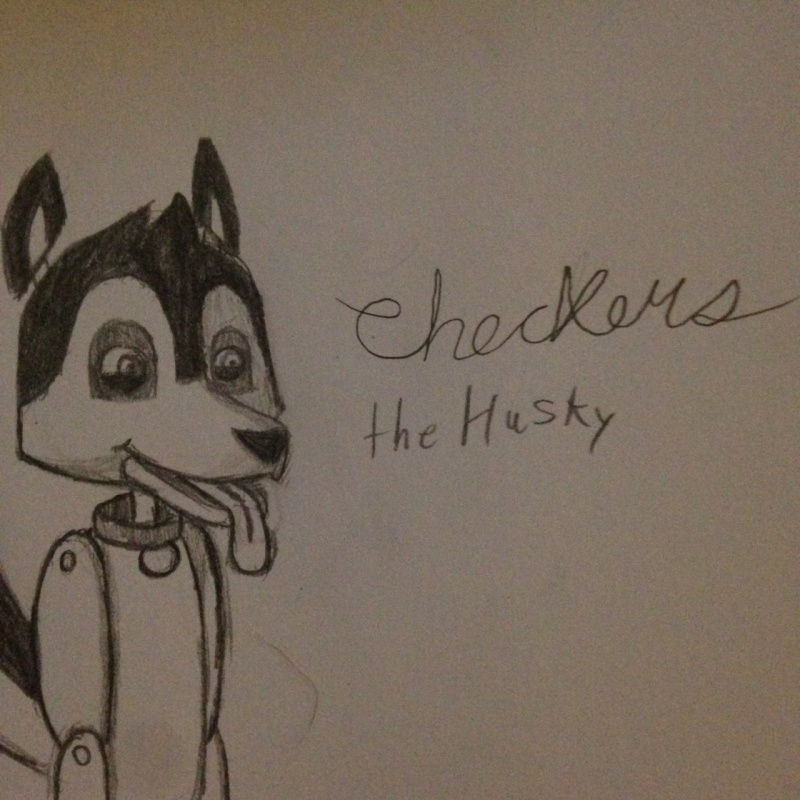 Name(s): Checkers the Husky
Gender(?): male -He, his, him
Species Husky
Body Color(s): Black and White
Eye Color(s): cold blue
Reason for Decommission: overshadowed by Foxy and Mangle.
Intended Function: Child watcher. He ran a daycare of sorts.
Personality: Super happy about everything.
Unique Structural Features: Tongue hangs from his mouth.
Passive/Neutral/Aggressive: Passive unless Foxy or Mangle are mentioned.
Backstory: Checkers was without a doubt the most popular animatronic for the kids to play with. He ran a daycare center where he watched over the children. Then Foxy and Mangle were introduced as new animatronics and no one ever visited the daycare center anymore, so Checkers was put out of commission. He seeks revenge on Mangle and Foxy to this day. Chuck, Checkers' human spirit, was Checkers' biggest fan and loved the animatronic. When he found out the daycare went out of commission, he was destroyed. The purple guy lured Chuck into a false  "New Daycare" and killed him.
Other(?): He's really good at chess but sucks at Checkers.He also takes on the happy, care-free persona of his human spirit until Foxy or Mangle are brought up. Then his revenge-seeking animatronic side becomes sentient and takes over.
Human Information